PrestoPark is an e-service offering for users of paid on-street parkings. It helps motorists to park with confidence by guiding them to the closest available parking space and offers them alternative payment based on complete virtual parking tickets. The motorist portal is accessible via www.prestopark.com. Additionally, there is an application to purchase and easily manage virtual tickets over the smartphone.
A single portal offering valuable services to motoristst
User friendly
Multi-city portal
Independent services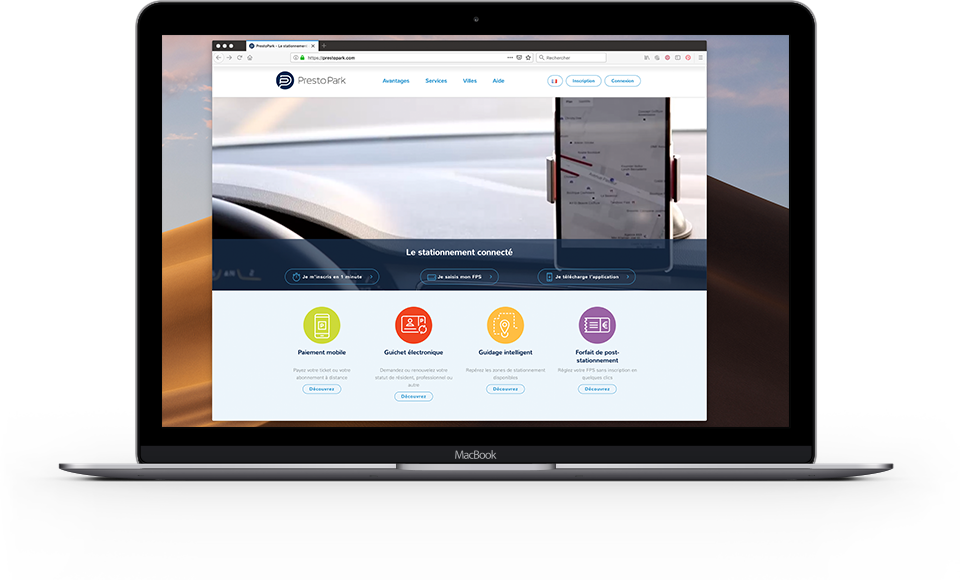 Virtual payments : hourly tickets and subscriptions
Parking transaction history available to the user
Management of parking tickets for a fleet of vehicles
Parking time offered by retail shops
Applications and supporting legal documents for subscriptions (residents, commercial…)
Consultation and guidance to available parking areas
Remote procedure of payment of timeout violation fines (France only)
Automatic tariff application : as function of parking zone, recognition of vehicle status with registration
Geolocation of vehicle on the city map and selection of the parking area
Manage the duration of the virtual parking ticket ; early termination or extension of parking time
Provide secure parking stickers in case of electronic distribution of long term subscriptions
Smartphone alert in case of the near end time of a virtual parking ticket
Transactions, subscriptions and supporting paper history
Manage shopping vouchers
Payment with creditcard for all transactions or use funding from a prepaid account within PrestoPark.
Consultation of free parking areas of the city (places equipped with PrestoSense detectors)
Supports information on : applications, Internet and mobile Internet, intelligent traffic guidance systems, integrated GPS systems
Geolocation of vehicle on a city map and visualization of free spaces
Meaning : green = more than 25% of spaces are free ; orange = lesss than 25% ; red = 0%
Automated detection of a vehicle's presence or absence on a parking space
Timeout violation fines
(France only)
Regulation of timeout violation fines with or without registration
Connection support : website www.prestopark.com
Enter the number of the timeout violation fines
Transaction history
Data interface with creditcard processing partner
Payment security and encrypted creditcard numbers
Transmission of information in real time
Set up subscriptions, supporting documents and tarifs
Statistics
Activity reports
See the operator portal page Presto1000
Customized service offering with a dedicated service map with the customers own design elements