Advanced Smart Parking Meter
The new generation PrestoInteractif is an advanced, solar-powered parking meter designed for maximum flexibility, power autonomy and lowest cost of ownership.
Equipped with a large 7" touch screen the parking meter offers all payment options including contact-less, Apple-/Google Pay while offering customers a highly reactive and user-friendly interface.
Featuring all-electronic locks, enhanced security against vandalism and compliant with the new EN12414-2020 norm the PrestoInteractif is a safe choice for parking operators.
And thanks to its modular design, service personnel can easily swap the entire payment-/printer-/or cash compartment in case of repairs within only a few seconds and completely without tools.
Besides the payment of hourly tickets, the touch screen interface with integrated keyboard also allows for the virtualization of parking tickets through identification with the license plate number.
Connected with IEM's cloud-based central parking platform and 3rd party enforcement software this allows parking wardens or scan cars to efficiently check the payment status of parked vehicles.
Discounts for resident permits can be as easily managed as incentivized tariffs for low-emission vehicles or changing tariffs and messages remotely.
A touch screen that offers new functions
Swiss made, lowest cost of ownership
Robust and reactive 7-inch touch screen
All payment options including contact-less, Apple-/Google Pay
 100% solar powered, with easy swap backup batteries
Highly secure with reinforced vault and all-electronic locks
Fully modular design for efficient maintenance of all key compartments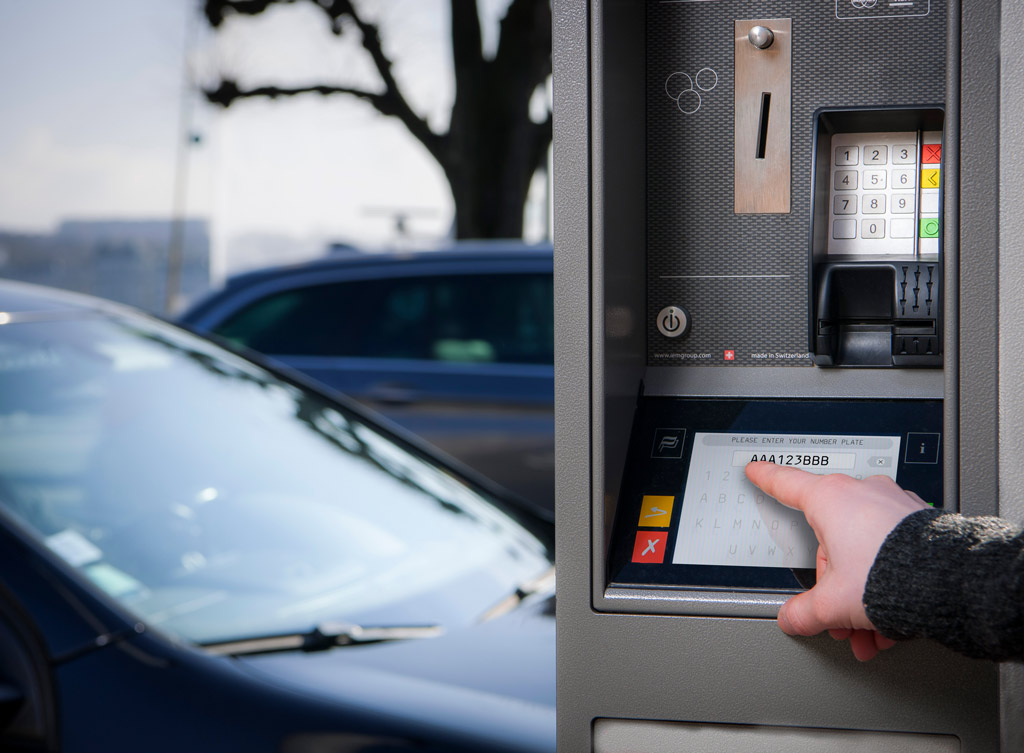 Payments of hourly tickets
Payment of short and long term subscriptions
Payment of timeout violation fines (only France)
Payment of public transport tickets
Management of privileges
Management of stored values
Applications of free parking time
Enforcement of parking rotations
Management of shopping vouchers
Dimensions,
weights & materials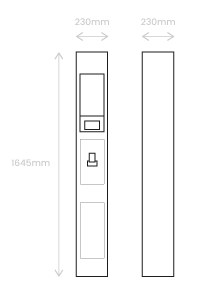 L230 x W230 x H1645 mm
62,5kg
Extruded aluminum cabinet.
Extruded aluminum cabinet with cash box enforced and wrapped with stainless steel plates
Monochrome : 200 tickets / day *
Color : 100 tickets / day * with option solar panels 15 watts
* in conditions of moderate sunlight in the latitude of Berlin
Power consumption
stand by
Less than 1mA
With virtual ticket option : less than 4mA
Diameter 7 inches and shock resistance IK10
Less than 1 defect per year
Temperature range : -15°C to +70°C
2 years warranty, with possible extension to 5 years
Real time communication with the centralised parking platform via 3G / 4G and remote programming
Pièces, carte bancaire avec et sans contact, carte privative avec et sans contact, application mobile PrestoPark, Carte ville et Twint
Color screen
Payment means : cash, creditcards or private cards chip based and contactless, electronic wallets,
Mains supply
Cabinet available in different RAL colors
Interface layout and exterior panels personalizeable
Languages : French, English, German, Spanish