Mar 2016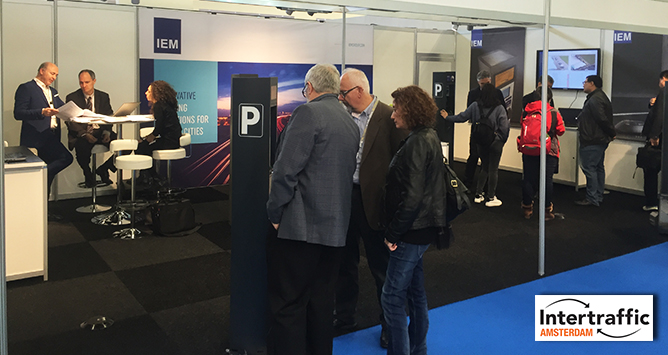 Intertraffic 2016 : smart parking at the heart of innovation
Inevitable meeting for the actors of the urban mobility, the exhibition Intertraffic in Amsterdam is a key moment to discover the last innovations of the sector strongly centred on the « smart city » concept. The stand of IEM met again a striking success thanks to its novelties both on the equipments and on the connected solutions.
Always presents on the IEM stand, the pay and display machine Presto Europa and Presto Interactif with touch screen attracts the visitors by their elegant and discreet design. Their demonstration from the point of view of the drivers and of the operator of maintenance seduces by the simplicity and the speed of use. The real time communication with the centralization allows a reactive and effective management of the park of machines and the activity of on-street parking.
The exhibition Intertraffic also was the opportunity to put forward the Presto Sense, put in production in the city of Annemasse since June, 2015, and prize-winner of the competition Win&Boost (Cleantech Geneva). This innovation « smart parking » allows to see in real time the availability of the on-street parking of a city thanks to sensors of high detection installedon parking places. This supervision offers numerous advantages to communities, as traffic control with the guidance via smartphone for the drivers or still analysis of the turnover of cars.
Finally, IEM presented exclusively its new brand Presto Park, mobile solution for all the users of the on-street parking that they are hourly users or subscribers. Presto Park is an unique portal and multi-cities to pay its parking ticket at distance (mobile app and internet) or still obtain its preferential right (subscription of short and long-lasting) via the electronic office.
IEM thanks all the visitors and finds you for the next edition in 2018.