Nov 2020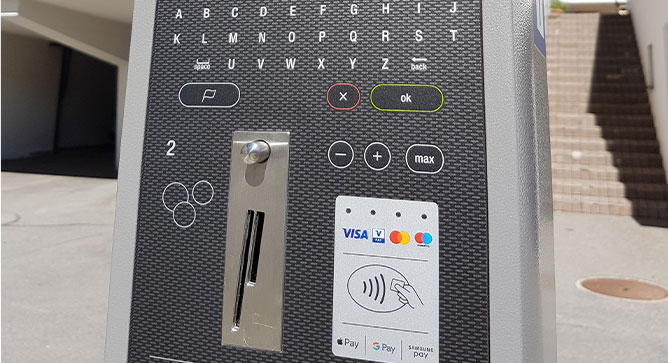 Zug uses IEM Parking Meters in Pursuit of Its Smart City Strategy
Since 2007, the city of Zug has been using around eighty parking meters from different manufacturers to manage the various public parking in the city. Some of the parking meters had become obsolete because they no longer met the technical requirements.
Therefore, in the upcoming months and in order to improve the profitability and management of car parks, while meeting new customer needs, parking meters will be replaced with PrestoConnect meters. Geneva-based with a branch in Rotkreuz, IEM is responsible for manufacturing these fine design parking meters. About thirty parking meters were replaced in September 2020 and the remainder will be installed in the coming months.
PrestoConnect machines are the latest generation parking meters with NFC contactless terminals. In addition to coins and previously introduced mobile applications for parking payment, further app payment methods like Apple Pay, Google Pay and Samsung Pay are now available. Thanks to PrestoConnect parking meters, the total number of machines has been reduced by about 30%, allowing major savings in terms of fleet acquisition and management. All parking meters are networked, communicate in real time via the GSM mobile network and operate by entering the car's license plate number.
When drivers pay an excess amount, it is recorded thanks to the license plate number and then credited for the next parking session. In addition, the user can obtain his parking tickets by SMS and view them on his PrestoPark user account.
IEM was chosen because it was the only company to offer parking meters that are 100% autonomous in solar energy and offering a variety of payment methods and accepting contactless payments with any type of card.