Since 2007, the city of Zug has been using around eighty parking meters from different manufacturers to manage the various public parking in the city. Some of the parking meters had become obsolete because they no longer met the technical requirements.
Therefore, in the upcoming months and in order to improve the profitability and management of car parks, while meeting new customer needs, parking meters will be replaced with PrestoConnect meters. Geneva-based with a branch in Rotkreuz, IEM is responsible for manufacturing these fine design parking meters. About thirty parking meters were replaced in September 2020 and the remainder will be installed in the coming months.
PrestoConnect machines are the latest generation parking meters with NFC contactless terminals. In addition to coins and previously introduced mobile applications for parking payment, further app payment methods like Apple Pay, Google Pay and Samsung Pay are now available. Thanks to PrestoConnect parking meters, the total number of machines has been reduced by about 30%, allowing major savings in terms of fleet acquisition and management. All parking meters are networked, communicate in real time via the GSM mobile network and operate by entering the car's license plate number.
When drivers pay an excess amount, it is recorded thanks to the license plate number and then credited for the next parking session. In addition, the user can obtain his parking tickets by SMS and view them on his PrestoPark user account.
IEM was chosen because it was the only company to offer parking meters that are 100% autonomous in solar energy and offering a variety of payment methods and accepting contactless payments with any type of card.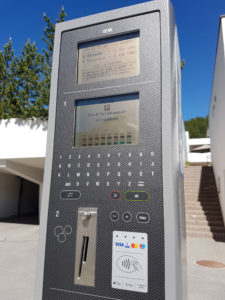 Strongly committed to creating a "greener" environment, the city of Antwerp in Belgium has implemented an environmental policy by establishing a "Low Emission Zone" (LEZ). This low-emission zone restricts the entry of the most polluting vehicles into the city center.
In this context and partnering with the parking operator Indigo and the Belgian distributor Krautli, IEM has equipped the city with 960 solar-powered and cashless parking meters. The PrestoInteractif parking meters combine state-of-the-art technology and sustainability while delivering parking tickets and pollution-based authorizations to access the LEZ.
The number of authorizations for polluting cars are limited through a registry system which exchanges information with Antwerp's central parking rights server and automatically detects unauthorized vehicles in the LEZ. This system helps the municipality to enforce a rules-based parking policy while reducing pollution levels in the city center. The controls are carried out by using cameras recognizing license plates.
IEM has a complete expertise in on-street parking. It's solar-powered smart parking meters with their unique slim design featuring color touch screens and fast contact-less payment have been positively received by Antwerp citizens. Moreover, they dynamically integrate multiple sources of information which allows to qualify the parking rights of each vehicle within seconds.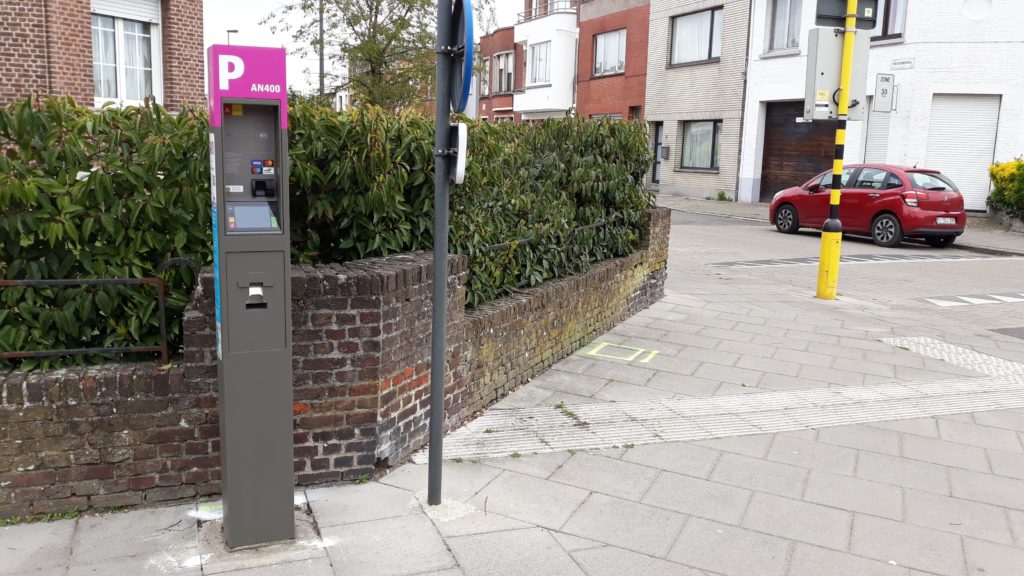 Since 10 October 2019 in Geneva, parking is paid simply and quickly from people's mobile phones with the PrestoPark application that is an integral part of IEM's digitalization strategy.
Users will have to choose one of the five applications made available by the Parking Foundation in Geneva and the PrestoPark APP differs from the others since it's the only one developed by Swiss-based company IEM, which installed the set of parking meters and sensors in the streets of Geneva.
The APP's features make life easier for drivers by offering a variety of electronic services. Once the account is created, the user will only have to insert the parking area (by entering the 1200 for public roads in the city of Geneva) and select the duration of the latter before paying. In 3 clicks it's done ! Motorists pay and manage their parking from a distance. They receive their parking tickets in a dematerialized way (virtual ticket) and have the possibility to find the history of their payments on their PrestoPark personal account.
In addition, the user will pay the right amount with the application that gives him the ability to stop his parking ticket if he decides to stop parking before time. Finally, he will be able to extend his parking time if he has a legally available time. PrestoPark will stand out even more over time by providing new features for users such as real-time guidance to the parking spaces available in the city of Geneva. This development is being carried out with different partners thanks to an algorithm for predicting the occupation of street parking.
Behind the scenes of this swiss SME that is at the forefront of new technologies. IEM has played a key role in the management of smart parking in Geneva.
Its innovative know-how and strong ability to adapt to different markets, position IEM as one of the leaders in intelligent parking solutions in the world.
Digitalization is changing people's lives, for instance through the transmission of information by IEM's sensors "PrestoSense", allowing the user to locate free parking spaces and electric charging stations in the city center. In partnership with ABB Group, IEM facilitates real-time access to location, payment and control information.
Following the opening of a branch in Asia, IEM inaugurates its representative office in Italy, reinforcing the group's presence in the Mediterranean region.
With its new location in Genoa the Italian operations will be headed by Alessandro Lombardi, who has 15 years' experience in the Italian parking industry.
"This decision is part of the group's growth strategy and will allow IEM to be closer to Italian customers and their local needs than it is possible from its global headquarter in Geneva" said Thorsten Helmich – International Business Development Director at IEM.
In addition, IEM's distribution channels in Italy will be complemented by its longstanding distribution partner ParkIT, which will offer IEM's parking solutions while servicing existing customers.
With its comprehensive parking portfolio ranging from solar-powered on-street parking terminals to LoRaWAN-based vehicle detection sensors to mobile payment– and integrated enforcement solutions, IEM is well positioned to help city councils as well as parking operators solving today's and future's parking challenges.
IEM expands its operations in the Nordic region with the opening of a branch in Norway. IEM Nordic AS will focus on the Norwegian market and eventually expand to other Nordic countries.
"The decision to open a new Nordic branch is based on the commercial and economic development of this market, which corresponds to the IEM group's growth strategy" said Phillipe Menoud – Managing Director of IEM SA.
This strategic choice confirms the IEM Group's desire to offer the Nordic market its complete portfolio of innovative smart parking and urban mobility management solutions. Swiss quality is ensured for all IEM products that are designed, developed and produced at the Group's headquarter in Geneva.
IEM's intelligent solar-powered parking meters, LoRaWAN-based vehicle detection sensors and mobile payment solutions enable cities and parking operators to solve their current and future parking issues while keeping the parking experience as simple and convenient as possible for the motorist.