Following the requirements of the new EN12414 norm, IEM is introducing a new generation of PrestoInteractif parking meters, offering a premium experience with its 7-inch colour touch screen.
The engineers at IEM have also redesigned the machine by setting the payment height to 1.22m, which makes it easy for disabled people to use the machine, in accordance with the new "EN 12414:2020" standard.
The bright display with a tilted and protected position inside a niche provides users with excellent readability, even in direct sunlight.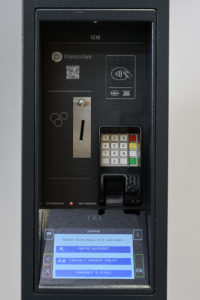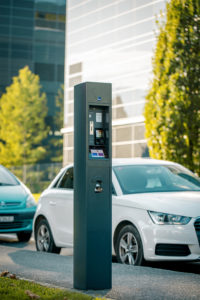 The slim design of the meter 
Designed and made in Switzerland, the PrestoInteractif stands out for its unique design and low total cost of ownership. With an average of less than one breakdown per year, IEM make sure all its machines are reliable. Fully integrated into a digital intelligent parking platform, cities can rely on IEM to implement advanced parking policies.
Contemporary and compact, measuring just 23x23cm, its architecture is the slimmest on the market and blends seamlessly into the urban environment. The single-block extruded aluminium casing is reinforced by an internal steel structure and electronic locks that ensure the machine is completely secure.
Despite its discreet size, both the machine and screen are highly robust, impact-resistant and IK10 compliant. The modular interface, with its colour screen that switches on almost instantly, provides for wide configuration flexibility:
by number plate,
parking space number or even with
the pay & display option by putting the printed ticket on the front of the windscreen.
Users have the option of obtaining a virtual paper-free ticket and consulting their past payments on the PrestoPark mobile application and on the www.prestopark.com platform. The various payment methods make for ultra-fast transactions. In just a few seconds users can complete their transaction and pay by cash, credit card with and without contact or even via their cellphone using Apple Pay and Google Pay.

Fully designed for solar operation, the advanced energy management of the new PrestoInteractif enables it to process hundreds of tickets per day. And with at least 50% fewer batteries and half the packaging of competing parking meters, the new PrestoInteractif also scores top marks for sustainability.
Its modular design means that the three main compartments can be accessed and exchanged individually in seconds and without tools. This makes the PrestoInteractif not only the best designed parking meter in the industry, but also one of the most efficient to maintain for service and operations personnel.
IEM Group and its local distributor in the Netherlands, IP Parking, have installed 400 new solar powered, touch screen PrestoInteractif parking meters on the streets of Maastricht.
Replacing 400 old parking meters, Maastricht decision makers were convinced by IEM's product offering, owing to its Swiss quality, modern and particular slim design as well as its modular architecture featuring multiple means of payments. Furthermore, IEM's very responsive and quality touch screen, which is well readable even in bright sunlight offers motorists an improved user experience.
In close collaboration with Ingenico – one of the world leaders in payment solutions – IEM Group has demonstrated its knowledge and expertise in the parking industry by adapting to the specific Dutch banking protocol C-TAP. This allows the Municipality of Maastricht as well as all other municipalities in the Netherlands to freely choose their final acquiring bank.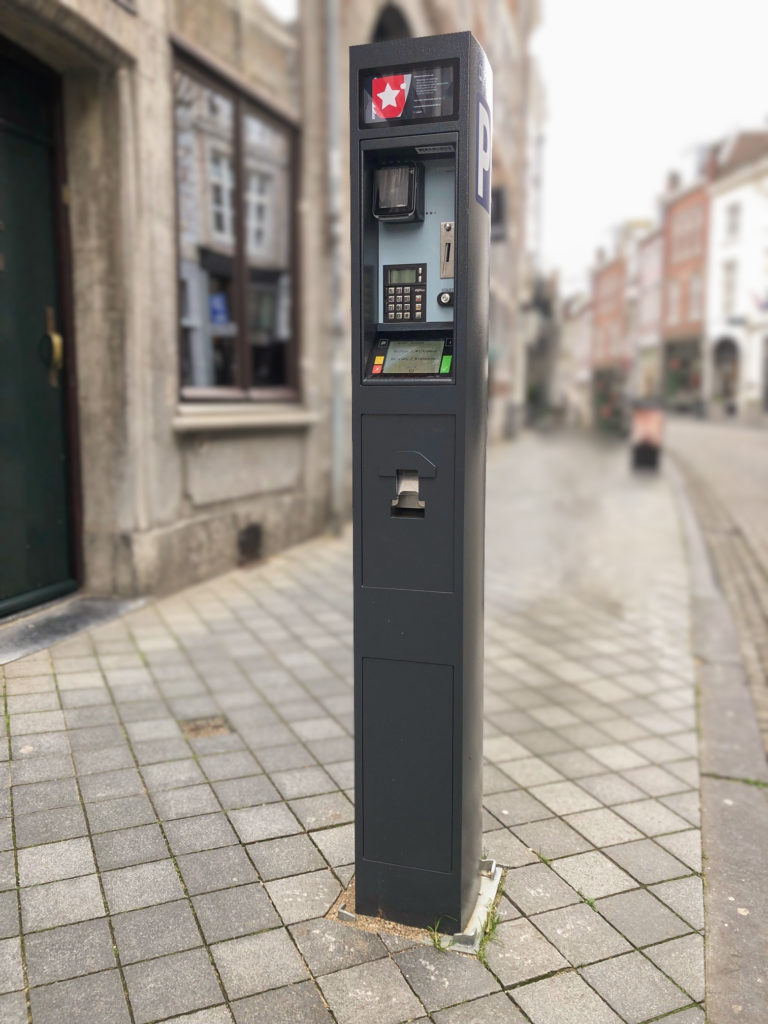 " The combined advantages of IEM's premium product offering, close collaboration with all team members and IEM's customized approach to the specific requirements of Maastricht and the Netherlands has convinced us to work with IEM." 
– Ben Jurkiewicz, Parking machines coordinator, City of Maastricht.
The Covid-19 pandemic had a major impact on our everyday lives. The impact of the imposed confinement period can be measured through many changes in citizen's habits including mobility patterns.
Thanks to around 650 installed PrestoSense parking monitoring sensors, we have analysed with anonymised data how on-street parking patterns have evolved in different parts of Geneva, Switzerland where a semi-confinement was announced.
State of emergency and semi-confinement period was officially declared in Switzerland on March 16th, 2020. From this day and during the semi-confinement period, vehicle parking control was suspended in Geneva. Progressive de-confinement started in April and May 11, officially ended the lockdown.
We looked at the following parking indicators:
Turnover rate: Average number of vehicles using the same parking space over a specific period.
Occupancy rate: Ratio between the number of parked vehicles and parking capacity.
Average parking time: Average time each vehicle spends in a paid parking space.
Parking behaviour in residential areas
Before the semi-confinement the parking usage in residential areas showed an average occupancy level of 82% with peaks during office hours and an average car turnover rate of 7.2 per day. Parking spots became available early in the morning when residents left their home to go to work. Occupancy increased in the evening when they returned home.

Average occupancy Rue des Pâquis before the confinement period. (between January 5th, 2020 and February 5th 2020)
In the same area during the semi-confinement we clearly noticed an increase of the occupancy level from 84% to a near constant level of 93.4% and decrease in car turnover rates from 7.2 to 3.2 cars per day. This data reveals that less residents were leaving their homes to go to work i.e. home office (grey coloured). The graph also shows no evening parking fluctuation with bars and restaurants being closed.

Average occupancy Rue des Pâquis during the confinement period. (between April the 1th and April the 30th 2020)
Parking behaviour in office and cultural areas
Before the confinement period we observed an average occupancy level of 39.3% with peaks during office and evening hours and an average car turnover rate of 5.7 cars per parking space per day. High occupancy rates decrease at the end of working days and quickly increase again with people going to restaurants, bars and cultural places.

Average occupancy Bd. Du théâtre between January the 5th and February the 5th 2020
In the same area during the semi-confinement we see a substantial drop of occupancy levels from 49.3% to 26.6% while car turnover rates decreased from 5.7 to 1.7 per parking space per day. This data reveals that only office workers had been using on-street parking spaces during work hours with near cero parking activity in the evening hours.

Average occupancy Bd. Du théâtre between April the 1th and April the 30th 2020
Evolution of car turnover rates
The graphics below show the evolution of the car turnover rates per parking bay per day in three differents areas before and during the semi-confinement.
As seen above, Bd Carl Vogt (red graph) and Rue des Pâquis (blue graph)are mainly residential areas with a few bars and restaurants around. On the other hand, Bd du Théâtre (purple graph) is an area with offices, bars, restaurants and cultural places.
Car turnover rates drop sharply with the introduction of semi-confinement by mid-May. On-street parking activities have been on low levels during the confinement period before slowly recovering as of end April.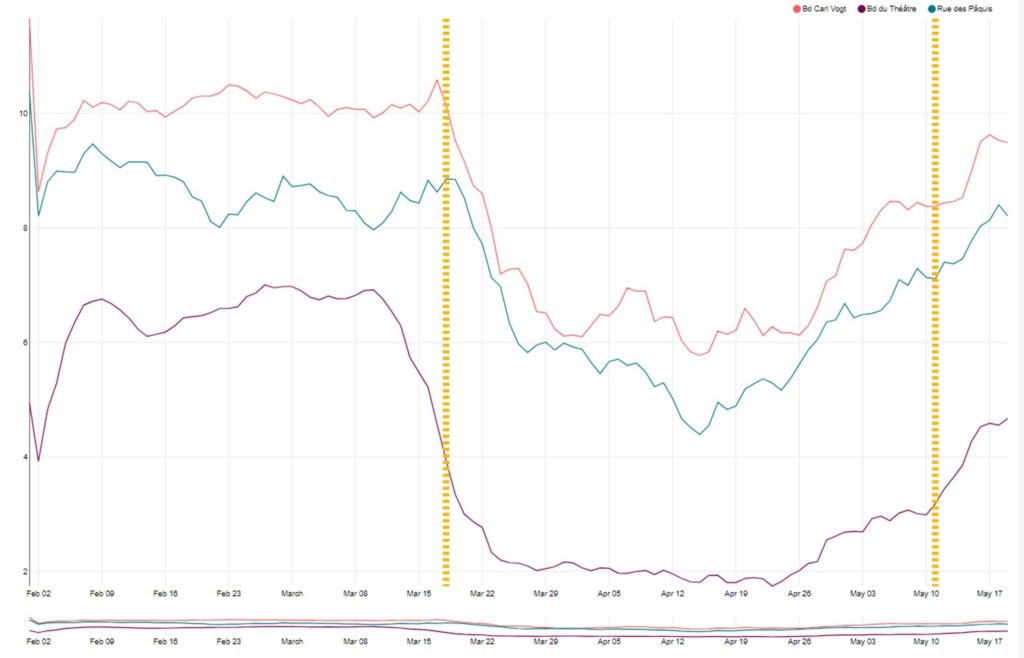 Evolution of car turnover rates per day before and during the semi-confinement period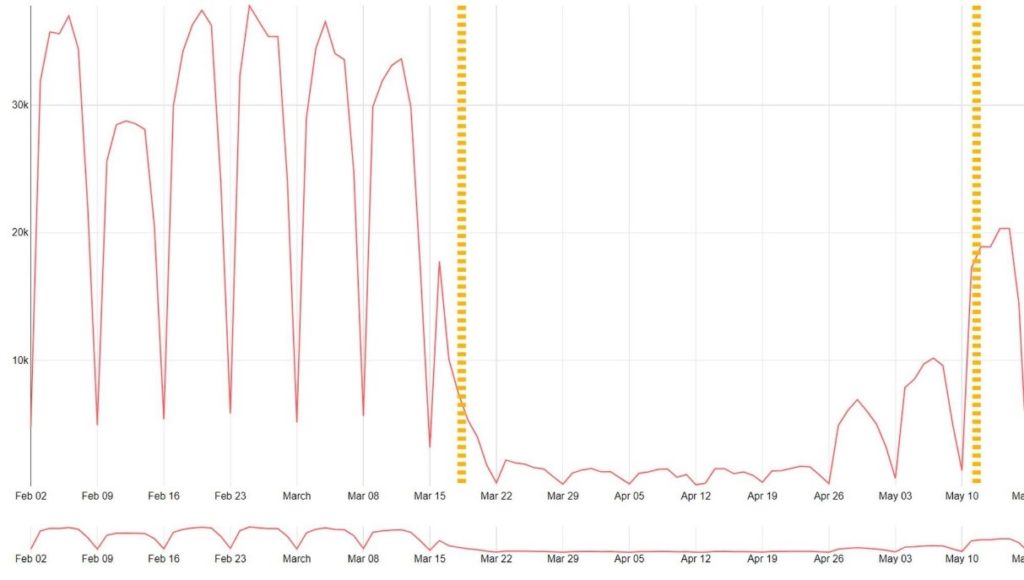 Evolution of revenue per day in Geneva
Parking enforcement has been officialy paused from March 18 to May 27, 2020. This last diagramme shows the cumulative revenue per day during this period in the city of Geneva. The end of the lockdown period is also clearly visible
Conclusion
As available parking spaces in city centers become more and more regulated in an effort to curb pollution levels and reduce congestion, the analysis of parking behaviour is a critical step towards making educated decisions.
Investments into a modern IoT and Smart City infrastructure lay the foundation for a data-driven decision making process rather than relying on vague guesstimates.
The covid-19 pandemic and associated semi-confinement had a significant and measurable impact on people's parking behaviour and mobility patterns in general.
Real-time monitoring of parking bays through PrestoSense vehicle detection sensors combined with revenue statisitics from parking meters allow policy makers and enforcement teams to precisely analyse on-street parking behaviour.
In cooperation with the Telenor – one of Scandinavia's leading telecommunication companies – IEM Group Nordic leads the way to improve the life of motorhome owners using the latest Smart City technologies.
A motorhome site in Lillesand, located in the south of Norway is now equipped with PrestoSense vehicle detection sensors on each of its 25 parking spaces. This project generates great curiosity in a country where private and public motorhome sites are very popular and places are in high demand.
Deployed since mid-May, the advanced PrestoSense sensors detect the presence of a vehicle in real time thanks to its dual detection technology and a newly installed Smart City LoRaWAN™ radio network.
In a first step, the sensors will provide Lillesand municipality with valuable information about motorhome occupation or availability levels. 
The collected and anonymised data is then aggregated in IEM's Presto1000 management platform which allows real time monitoring and reporting of key performance indicators such as number of visits, duration of parking, motorhome rotations etc. This is particularily important during the summer vacation period where parking places fill up quickly.
In a second step, this new technology combined with IEM's PrestoPark parking App will also allow motorhome owners to check parking availability before or during a trip. This helps to avoid unnessary congestion and travel stress while future developments also envisage even more convenience by allowing parking reservation and payment options all via the same App.
Strongly committed to creating a "greener" environment, the city of Antwerp in Belgium has implemented an environmental policy by establishing a "Low Emission Zone" (LEZ). This low-emission zone restricts the entry of the most polluting vehicles into the city center.
In this context and partnering with the parking operator Indigo and the Belgian distributor Krautli, IEM has equipped the city with 960 solar-powered and cashless parking meters. The PrestoInteractif parking meters combine state-of-the-art technology and sustainability while delivering parking tickets and pollution-based authorizations to access the LEZ.
The number of authorizations for polluting cars are limited through a registry system which exchanges information with Antwerp's central parking rights server and automatically detects unauthorized vehicles in the LEZ. This system helps the municipality to enforce a rules-based parking policy while reducing pollution levels in the city center. The controls are carried out by using cameras recognizing license plates.
IEM has a complete expertise in on-street parking. It's solar-powered smart parking meters with their unique slim design featuring color touch screens and fast contact-less payment have been positively received by Antwerp citizens. Moreover, they dynamically integrate multiple sources of information which allows to qualify the parking rights of each vehicle within seconds.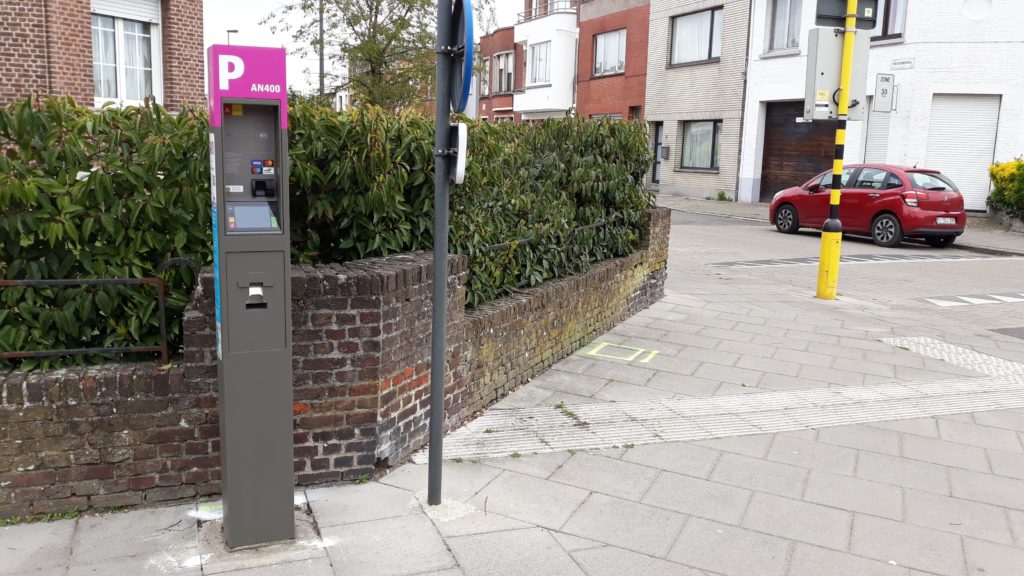 Since 2007, the city of Zug has been using around eighty parking meters from different manufacturers to manage the various public parking in the city. Some of the parking meters had become obsolete because they no longer met the technical requirements.
Therefore, in the upcoming months and in order to improve the profitability and management of car parks, while meeting new customer needs, parking meters will be replaced with PrestoConnect meters. Geneva-based with a branch in Rotkreuz, IEM is responsible for manufacturing these fine design parking meters. About thirty parking meters were replaced in September 2020 and the remainder will be installed in the coming months.
PrestoConnect machines are the latest generation parking meters with NFC contactless terminals. In addition to coins and previously introduced mobile applications for parking payment, further app payment methods like Apple Pay, Google Pay and Samsung Pay are now available. Thanks to PrestoConnect parking meters, the total number of machines has been reduced by about 30%, allowing major savings in terms of fleet acquisition and management. All parking meters are networked, communicate in real time via the GSM mobile network and operate by entering the car's license plate number.
When drivers pay an excess amount, it is recorded thanks to the license plate number and then credited for the next parking session. In addition, the user can obtain his parking tickets by SMS and view them on his PrestoPark user account.
IEM was chosen because it was the only company to offer parking meters that are 100% autonomous in solar energy and offering a variety of payment methods and accepting contactless payments with any type of card.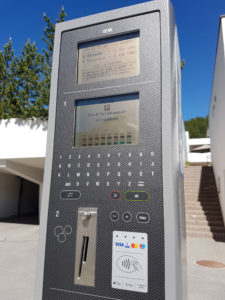 Since 10 October 2019 in Geneva, parking is paid simply and quickly from people's mobile phones with the PrestoPark application that is an integral part of IEM's digitalization strategy.
Users will have to choose one of the five applications made available by the Parking Foundation in Geneva and the PrestoPark APP differs from the others since it's the only one developed by Swiss-based company IEM, which installed the set of parking meters and sensors in the streets of Geneva.
The APP's features make life easier for drivers by offering a variety of electronic services. Once the account is created, the user will only have to insert the parking area (by entering the 1200 for public roads in the city of Geneva) and select the duration of the latter before paying. In 3 clicks it's done ! Motorists pay and manage their parking from a distance. They receive their parking tickets in a dematerialized way (virtual ticket) and have the possibility to find the history of their payments on their PrestoPark personal account.
In addition, the user will pay the right amount with the application that gives him the ability to stop his parking ticket if he decides to stop parking before time. Finally, he will be able to extend his parking time if he has a legally available time. PrestoPark will stand out even more over time by providing new features for users such as real-time guidance to the parking spaces available in the city of Geneva. This development is being carried out with different partners thanks to an algorithm for predicting the occupation of street parking.
Behind the scenes of this swiss SME that is at the forefront of new technologies. IEM has played a key role in the management of smart parking in Geneva.
Its innovative know-how and strong ability to adapt to different markets, position IEM as one of the leaders in intelligent parking solutions in the world.
Digitalization is changing people's lives, for instance through the transmission of information by IEM's sensors "PrestoSense", allowing the user to locate free parking spaces and electric charging stations in the city center. In partnership with ABB Group, IEM facilitates real-time access to location, payment and control information.
Following the opening of a branch in Asia, IEM inaugurates its representative office in Italy, reinforcing the group's presence in the Mediterranean region.
With its new location in Genoa the Italian operations will be headed by Alessandro Lombardi, who has 15 years' experience in the Italian parking industry.
"This decision is part of the group's growth strategy and will allow IEM to be closer to Italian customers and their local needs than it is possible from its global headquarter in Geneva" said Thorsten Helmich – International Business Development Director at IEM.
In addition, IEM's distribution channels in Italy will be complemented by its longstanding distribution partner ParkIT, which will offer IEM's parking solutions while servicing existing customers.
With its comprehensive parking portfolio ranging from solar-powered on-street parking terminals to LoRaWAN-based vehicle detection sensors to mobile payment– and integrated enforcement solutions, IEM is well positioned to help city councils as well as parking operators solving today's and future's parking challenges.
The coastal city of Makassar – one of the largest cities in Eastern Indonesia – has embarked on a new era of parking, launching its first modern on-street parking infrastructure featuring the latest generation of solar-powered parking terminals from IEM Group, Geneva.
Operated entirely by contact-less payment cards without the need for cash this 1st of its kind installation has been led by the local parking operator and IEM partner Kinarya Terbaik Indonesia (KTI) with the clear objective, to replace the old coin and voucher-based parking system and to substantially improve the transparency of payment transactions for the city council.
With an average payment transaction time of less than 15 seconds the cashless fleet of IEM PrestoEuropa parking meters offer a convenient and fast tap-and-go payment option through local pre-paid cards to the almost 2 million citizens in Makassar
And thanks to the cloud-based Presto1000 management platform from IEM the entire parking operations can now all be centrally managed and revenues from parking transactions can be clearly traced.